I've got a great start to the weekend right here today! As you know today is Saturday and if you read Laila from
Townhouse Palette
's blog or clicked on the link I have down in my sidebar, then you'll know about the Beauty and Fashion Bloggers' Blog Hop. And I'm co-hosting the fourth one.
If you don't know what a blog hop is then keep reading and everything will be explained! I've already found so many new blogs and made new friends from the first 3 blog hops so let's all join in and share our blogs and make new friends together.
If you're new to blogging and reading blogs then a blog hop is a great way to see what everyone else is doing and take some advice from everyone! And if you've had your blog for a while...isn't it nice to see some new faces every now and again? So go for it!
Please remember:
To follow all the people before you in the blog hop as well!
And add the link to your sidebar or wherever you keep similar links like this! (plus it's pretty so it makes your blog look nice right?)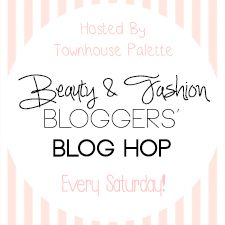 Add your link into the form below and get started! Remember to follow the rules and most importantly, remember to have fun everyone.
Have a great day and I'll see you all on Monday for a
What's In My Travel Bag
!