Something a little different today. A British product. Meet Bourjois Volume Clubbing Blackjack Mascara. I received this as a free gift from Miss Selfridge when I bought my prom dress...It's retailing at £7.99 at Superdrug and Boots in the UK!
I actually wore this as my prom mascara, so here's a picture I sent to twitter originally when I was doing my prom makeup and live microblogging for you all!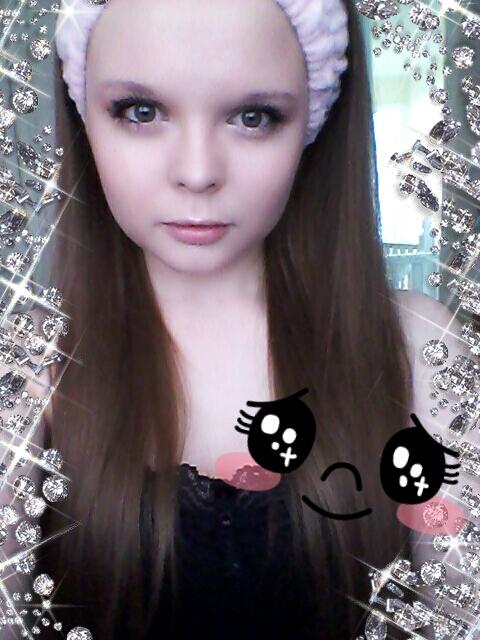 Probably not the best angle...but you get the picture.
I had no false I lashes on this day.
And this was the last photo I took in the evening...the mascara is still there..
Perhaps just not as much though honestly!
Packaging:
The packaging first of all. All I'm going to say is 2NE1. This mascara has 2NE1 all over it. If they're not the secret inspiration for this mascara then I don't know what is. At the end of the day though, although the packaging looks pretty and everything...it's just a sticker on a black tube. For almost £8 you'd probably expect something better? Or maybe I've just been used to pretty Korean products and forgotten how overpriced the British ones are?
The packaging!
Nothing special about this wand...just a normal plain volumising wand.
Claims:
From the packaging: "Double-sided volumising brush with product reservoirs. Ultra-resistant vinyl formula enriched with light-reflecting micro-particles of gold."
So let's take a close look into those two sentences. I suppose this is double-sided...if you mean that the wand goes the whole way around. That's not really something to be bragging about though honestly Bourjois. Most mascaras cover the whole wand. It is volumising I'll give them that. It's definitely not for everyday wear because it's so voluminous. And I wasn't sure what they meant by "with product reservoirs." I decided I couldn't decipher the meaning by myself, so I took a quick Google and it seems that "product reservoirs" is just the packaging. Really? Way to make yourself look fancy.
Moving on...I wouldn't call this ULTRA-resistant. Resistant yes. But not Ultra...but I suppose you have to oversell.
Finally, just moving onto the light-reflecting particles. Don't hang onto this claim. Take a look back to the first picture. You can't even notice them. At all. You can seem them when I swatched them on my hand...but that's all.
One application. As you can see it's pretty black.. (click to enlarge photos)
After smudging with one finger. the centre has completely gone and some
areas have flaked off.
And finally, after running under running water for between 5-10 seconds...
The vote:
Packaging: 3/5
It's pretty but not great quality honestly...
Value: 3.5/5
I think I'm probably being harsh here...but in comparison to K-cosmetics...if you usually buy from Korea, stick to Korea. If you want to go into Boots or another drug store and pick this up then go for it. But if you normally buy cheaper, stick to that. It's nothing special.
Volumising: 5/5
I have a lot of eyelashes. Let's just put that out there. Which is why I didn't swatch on my eyes. But somehow it managed to curl AND volumising. So I'll give it that.
Staying Power: 4/5
I've knocked it down a point simply because it did fade a little throughout the night. Although when I had to remove everything there was still a lot of product left behind.
Smell: 1/5
It's just got the horrible mascara smell that I hate. I can't stand the smell of mascara...
Portability: 2/5
Although the container is very secure and I wouldn't worry about this opening in my bag...I would worry about how much space it would take up in my bag. It's not huge but it could have been smaller.
Overall: 3/5
I personally wouldn't go and buy this if I saw it in a store... (mainly because I don't go out to enough evening events I could wear it to...xD) but it does just seem overpriced for a mascara that although it's volumising, it's main claim is the gold flecks that you can't even see. There's nothing particularly bad about this product though.
After using facial cleanser...
Have a great day! And what is your favourite mascara? Do you have a separate day and night mascaras or do you just stick to one favourite?